I live, eat and breathe health! I am truly a health enthusiast with an
appetite for healthy living.
My journey to health and passion for natural nutrition started 11 years ago when I began training for my first marathon. Training for long distances was certainly difficult at the beginning but the hardest hurdle that I had to overcome in that same year was being diagnosed with Multiple Sclerosis (MS). Should I continue to run or should I stop? Am I eating the right food? I struggled with these questions a lot. The thought of my hero Terry Fox entered my mind. I remember thinking: "He never quit. Despite his cancer, he ran a marathon a day through Canada's Atlantic provinces, Quebec and Ontario for 143 days."A little voice inside me told me that I couldn't stop either. Sure I could have chosen to remain a victim of the illness but I chose to do whatever it takes to overcome it.
Completing my first marathon in May on Mother's day was a life changing event for me. It gave me the strength I needed to prove to myself that I can get through this, that my body can do this. What I thought would be a once-in-a-lifetime marathon back in London in 2001 has turned into a lifestyle for me. Every success marathon is a confirmation to me that I have control of my illness and that there is hope to end MS. I am now training for my fifteen marathon.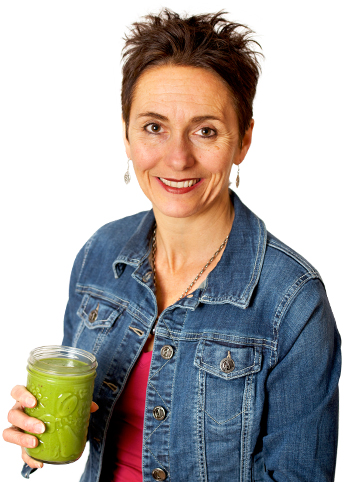 Over the years the road has become my therapy; it's been my way of dealing with MS and eating natural wholesome food has become my best medicine. Not only have I mastered how food choices can affect my energy levels, body composition, I continue to research and discover the wonders of natural nutrition. I love finding new healthy foods and experimenting with new recipes that I absolutely enjoy testing on my children. I am also absolutely fascinated to learn how food is intimately connected to our health, and how we can simply change the way we eat to improve it.

I am a graduate of the University of Ottawa, holding a science degree in Kinesiology and a Master's in Child and Development Studies. I have over 15 years of experience teaching all age groups, from primary to university level. I am also a Personal Trainer Specialist with the Canadian Fitness Professionals, a Registered Holistic Nutritionist with the Canadian School of Natural Nutrition, a Sport Holistic Nutritionist for the Sports-Études program à l'école secondaire Louis-Riel and l'école secondaire Franco-Cité in Ottawa, a regular wellness columnist for the Ottawa MS Chapter Newsletter, a recipe designer for an online newsletter "Be Healthy, Be Beautiful Ottawa", a monthly columnist "Ma boîte à Lunch Santé" for a local primary school École Étoile-de-l'Est and a chair fitness instructor for a courageous group that have Multiple Sclerosis.

'If you Eat Well and Live Well, you will be rewarded with wonderful health'
Linda Houle-Robert
Holistic Nutritionist
Orleans, Ontario
613•793•WELL (9355)